Our Other Projects
The Millennium Tapestry Company
The Millennium Tapestry Company is a non profit distributing limited company set up to run collaborative arts projects for schools that support and enrich the national curriculum. The projects' outcomes are wonderful artworks which often constitute enduring legacies of events or anniversaries; they also help children learn about issues like caring for the environment, recycling and reducing energy consumption, appreciating cultural differences as a means of promoting social cohesion and global citizenship and understanding disability. Children are encouraged to take pride in their local area and schools to form enduring links with their wider communities. All our projects are fully inclusive: schools from very different communities take part and special schools are able to contribute on a level playing field with other schools.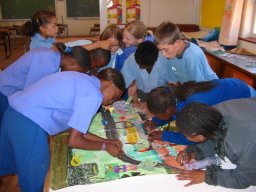 We have run two major schools arts projects, the Millennium Tapestry which involved 1,700 schools across Britain and the Golden Tapestry with 800 schools in 48 Commonwealth countries and territories. The resultant artworks have been exhibited widely in prestigious venues like Buckingham Palace, the Houses of Parliament, the British and Natural History Museums and fourteen cathedrals (including Durham, St Paul's and Canterbury, and exhibition centres like SECC Glasgow, Cardiff International Arena and NEC Birmingham as well as at major Commonwealth events in Australia, Malta and Uganda. We have also organized smaller-scale schools tapestry projects in Milton Keynes, in the area around Banbury and in Bicester in Oxfordshire. The dedicated websites have achieved high profiles nationally and internationally. Our tapestries are collaborative single artworks, made up of metre-square canvases made by individual schools. We own a specially designed modular free-standing stainless steel display system from which we can hang from 12 to more than 1,000 canvases.
LIZZIE OWEN - Chief Executive
The Millennium Tapestry Company

Click on the photographs to read detailed biographies

Email:

MillenniumTapestry@btinternet.com

Telephone:

Tel +44 (0)1869 233165


Millennium Tapestry Company,
Building 68, Heyford Park,
Camp Road, Bicester,
Oxfordshire OX25 5HD.

ROBYN OWEN - Planning Director
The Millennium Tapestry Company


Click on the photographs to read detailed biographies

Principle Sponsor: Mpower1 is an international operation, headquartered in the UK and operating from offices around the world, specializing in business creation, turnaround, growth and development. Mpower1 provides an infrastructure that incorporates management, support, sales and all other aspects of a successful business operation to companies looking to expand into new markets, achieve exponential growth, consolidate an existing position or recover from a challenge.
Visit Mpower1 at www.mpower1.com

Databases of Tapestries are powered by jBASE, a subsidiary of Mpower1. jBASE were our first major sponsor with the Millennium Tapestry, and continue to support the Golden Tapestry.

We are delighted that jBASE International - a top British software company - continues to support the Golden Tapestry.