Click here to see The Golden Tapestry
---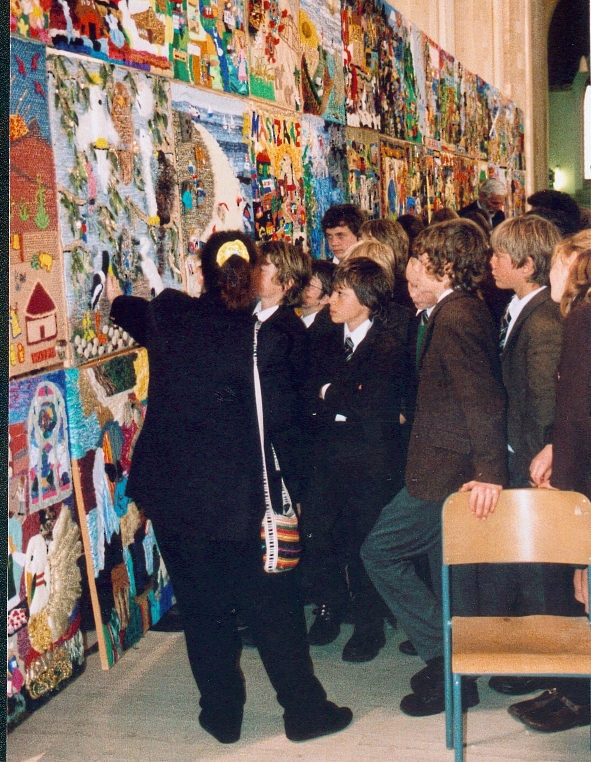 The Golden Tapestry
An arts project linking schools across the Commonwealth
The Golden Tapestry was a project for primary and special schools across the Commonwealth. Hundreds of thousands of children contributed their own ideas and portrayed their own lives and experiences in a unique collaborative artwork that has been exhibited around the world. But the Golden Tapestry was far more than that. Within the project, schools worked together with schools in other countries. Some we introduced to each other for the first time, others used the project to strengthen their existing links. Our aim was that all these links would endure beyond the project, providing a valuable legacy on which schools and their communities could build. Through working on the Golden Tapestry children have learnt to see their lives in a global perspective, to take pride in their own communities and culture and to understand and respect others'.
The Golden Tapestry celebrated Her Majesty the Queen's 50 years as Head of the Commonwealth. It was designed to bring together the first generation of primary school children in the 21st Century, and to give them a voice to express what being part of the Commonwealth means to them.
Schools in every Commonwealth country and territory were invited to contribute to a story covering a year in the life of the Commonwealth and describing what different aspects of their lives the children would most like to show Her Majesty. It became and remains a dazzling celebration of diversity, reflecting the principles that unite the Commonwealth, underlining peace and friendship, understanding and cooperation.
The Golden Tapestry involved some 800 schools in 48 Commonwealth countries and territories, and around 400 canvas are still available for exhibitions at Commonwealth events, representing Australia, Bangladesh, Brunei Darussalam, Cameroon, Canada, Cyprus, England, the Falkland Islands, The Gambia, Grenada, Guernsey, India, the Isle of Man, Kenya, Malawi, Malaysia, Malta, Mauritius, Namibia, New Zealand, Nigeria, Northern Ireland, Pakistan, St Helena, St Lucia, Scotland, Seychelles, Sierra Leone, South Africa, Sri Lanka, Tanzania, Trinidad and Tobago, Tristan da Cunha, Uganda, Wales
and Zambia.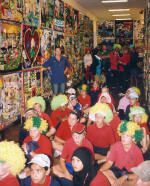 The project has been supported by the Commonwealth Secretariat, the Royal Commonwealth Society, the Commonwealth Foundation, the Foreign and Commonwealth Office in London and the governments of many Commonwealth countries, provinces and states.
HE the Rt Hon Don McKinnon, the Commonwealth Secretary-General at the time it was run, said "The Golden Tapestry is a project aimed at promoting the value of diversity throughout the Commonwealth. It involves Commonwealth schoolchildren and offers them an opportunity to express what it means to them to be part of the Commonwealth."
Please visit the Virtual Golden Tapestry to see photographs of the individual schools' finished tapestry canvases, often with descriptions written by the schools themselves.

The Millennium Tapestry page is a record of the United Kingdom project that was the predecessor of the Golden Tapestry, a vision of Britain at the time of the new millennium through the eyes of its children. perspective, to take pride in their own communities and culture and to understand and respect others'.