Click here to see The Golden Tapestry
---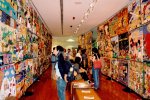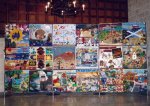 The Exhibitions of the Golden Tapestry
An arts project linking schools across the Commonwealth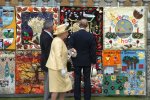 The very first display was at Buckingham Palace on 2nd June 2003 at the Coronation Day Childrenís Party, although only a few schools that had completed their work. The Queen was delighted with the projectís progress and remarked on the wonderful ingenuity the children showed in their work.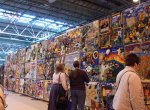 The preview shows continued, growing larger as more schools finished: Leicester Town Hall in November 2003; the British Museum and the Commonwealth Fair in Kensington in 2004; Middleton Hall in Milton Keynes, the Commonwealth Fair again and Valletta, Malta for the Commonwealth Heads of Government Meeting in 2005; the QEII Conference Centre, Westminster in 2006.
Our first major exhibition was at Festival Melbourne 2006, the cultural festival of the XVIII Commonwealth Games, where the Golden Tapestry attracted almost 32,000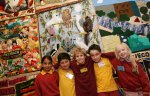 visitors.
After Melbourne we mounted major exhibitions in Blackburn Cathedral in 2006 and Hexham Abbey and Guildford Cathedral in 2007, as well as smaller displays at the Royal Commonwealth Society and Central Hall Westminster in 2006 and NEC Birmingham in 2007. In November 2007 we took a display to Kampala, Uganda for the Commonwealth Unity Cultural Festival where it was seen by 5,700 visitors. Our most recent exhibitions have been in the Houses of Parliament in 2009 and in the Royal Festival Hall in 2012, both in London.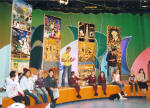 The Golden Tapestry has been featured on television in Britain, starting with Buckingham Palace in 2003 and BBC Blue Peter in 2004, and in several Commonwealth countries.
In the work we did to help schools across the Commonwealth twin with each other we were partners of both BBC World Class and School2School in Victoria, Australia.