About Leonard Cheshire Disability
We are proud to have as a partner in the the Charter 400 tapestry project Leonard Cheshire Disability, the UK's leading provider of disability services supporting more than 21,000 people.
2008 is the 60th anniversary of the founding of the organisation by the late Group Captain Lord Cheshire of Woodhall. Leonard Cheshire was a renowned war hero, who found at the end of the Second World War that there was a pressing need for homes to care for ill and wounded ex-servicemen and women. After first opening his own home in Hampshire, he soon founded further homes in Britain and by 1955 had opened a home in Mumbai in India. Today, Leonard Cheshire is active in 52 countries, supporting over 250 independently managed services for disabled people and their families.
Leonard Cheshire Disability continues to pioneer new projects and services globally, as well as campaigning on the rights of disabled people, seeking to empower them and to give them a voice. It aims to raise public awareness of disability issues and a wider understanding of disabled people and the challenges they face.
From their briefing documents and in assemblies, the schools taking part in the Charter 400 Tapestry have learnt about Leonard Cheshire Disability and have been encouraged to think and act positively towards people with disability. If you look closely at the canvases the children have created you will see many images of the characters from the highly successful 'Creature Discomforts' campaign. You can find out more about the campaign and meet all the brilliant characters at www.creaturediscomforts.org.
Agnes Court, Banbury
The Oxfordshire Cheshire Home moved into its new premises, Agnes Court, Banbury during November 2007. It is a care home with fully qualified nurses, and has been providing excellent care for twenty local people with disability since 1969. The home also has a three-bedroom respite care unit. It takes advantage of some of the most up-to-date technology available to enhance the residents' quality of life, promoting privacy, independence and confidence.
All the residents have severe disabilities such as multiple sclerosis, acquired brain injuries, stroke, cerebral palsy and spina bifida, and require full-time care.
The Home is on the Warwick Road, a short stroll or wheelchair ride from Banbury town centre. Specially trained staff and volunteers help residents to get the most out of life by making full use of the local amenities.
To learn more about Leonard Cheshire Disability, visit www.lcdisability.org.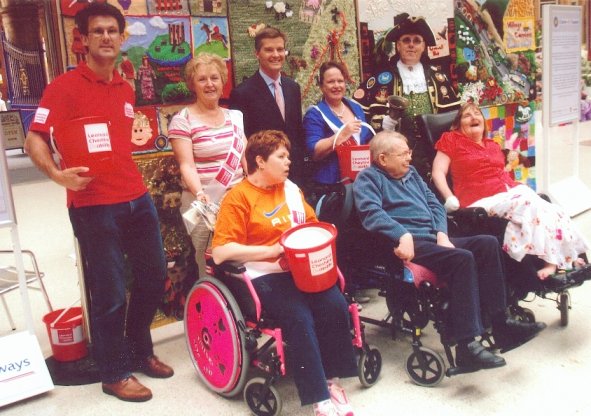 Fundraising in front of the tapestry on Marylebone Station